The Sunshine City Sài Gòn -District 7, HCM
The Sunshine City Saigon project (formerly known as The EverRich 3), invested by Sunshine Saigon Group JSC, is located in a prime point in District 7 next to Ca Cam River. The project is adjacent to the main traffic axis of Huynh Tan Phat Street, Phu Thuan Street connecting through Saigon South Area. Located in the heart of District 7, adjacent to Phu My Hung, Sunshine City Saigon is considered one of the key projects to extend and spread Phu My Hung's splendor and civilization to the whole District 7.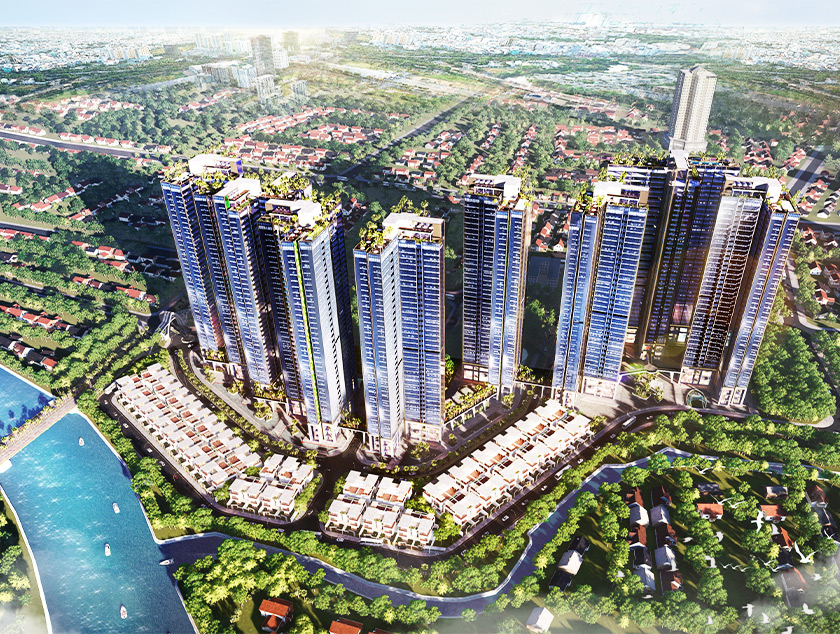 Inheriting success from a series of Sunshine-branded projects in Hanoi, Sunshine City Saigon continues to be a project that brings together the outstanding intellectual products from the international real estate village: from smart housing model 4.0, sustainable green architecture, sophisticated gilded interior materials, to the fashionable modern conveniences such as infinity pool, multipurpose sports ground, Rooftop City Bar, S- Cafe, Four Seasons Garden, 4-5D Cinema …

Project information:
Location: Phu Thuan Street, Tan Phu Ward, District 7, HCMC
Total area: larger than 9.9 hectares
Construction density: below 35%
Water surface area: 1.3 ha
Green area: 5000 m²
Total construction floor area: 434, 791 m2
Number of towers: 9 apartment towers with 26 – 38 floors high.
Number of bedrooms: 2 – 4 bedrooms from 77 – 130m2.
Total number of apartments: 3,748 units
Type of accommodation: Villa, Duplex, Penthouse
With a large area devoted to landscape and utility space, Sunshine City Saigon is the land of modern life, leading the future trend. International 5-star service and intelligent technology management and operation system are fully exploited, where the values of living values converge completely.